Zochem, an industry leader in the production of French process zinc oxide (ZnO), has announced that they will be expanding production capacity at their Dickson, TN facility. The company will be using its expertise to design and install a new state-of-the-art, low carbon, high-output muffle furnace. Some of the increased capacity will be devoted to expanding its agricultural market product offerings.
The new furnace will add another 15,000 metric tons of capacity to the Central Tennessee facility, which is still the newest site in North America by over 20 years.  This expansion will help fill the expected increased demand for French process zinc oxide in new applications such as the battery storage market, along with continued growth in durable products found in the agriculture, automotive, and specialty chemical sectors.  The newly designed furnace will focus on sustainability, maximizing the use of recyclable materials while creating a smaller carbon footprint when measured on an output-based system.
Zochem has become a global leader in the operation of muffle furnaces, which are a high-output, low carbon footprint design when compared to more traditional zinc oxide production technologies.  The furnace will use the newest conductive refractory and low NOx natural gas burners to create a uniform temperature profile over a large molten metal bath. This approach will allow Zochem to maximize the furnace's output-based metric (mt ZnO/tCO2e).
President and C.E.O. Mohit Sharma commented, "Zochem's approach is to continually focus on the greater good of all stakeholders, particularly our dedicated employees and customers.  We consider ourselves to be neighbors within both the Dickson, TN, and Brampton, ON communities. Investments, such as the Dickson expansion, will strengthen that bond. We are committed to sustainability through expanding the use of reusable and recycled products and to the global message of reducing greenhouse gas emissions from COP 26 (UN Conference of the Parties)."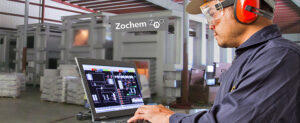 Zochem expects to have the new furnace online in Q2 of 2023.
Product Expansion
Long regarded as a premier global high purity zinc oxide producer, Zochem is looking to expand their product offerings, specifically for the Agricultural (Animal Feed, Fertilizer) industry where different forms and purities of zinc oxide and zinc sulfate are often consumed.
Zochem's technical and business development teams are focused on working with a new raw material of Waelz Oxide available to them to introduce products to the Agricultural market.
Sharma continued, "Zochem's core strength has always been providing zinc-centric solutions for our customers.  We see this project as a great opportunity to apply our business and technical knowledge while catering to both existing and new customers in markets that have often been primarily served by product variants of French process zinc oxide and other zinc compounds.  Supporting the supply chain of these compounds is critical to sustaining a growing global population, which will require crop yields from each acre of arable land to be maximized."