Zochem has just published a comprehensive new brochure on the company's operation, capabilities, and product applications. The new 16-page brochure describes Zochem's manufacturing facilities in the US and Canada and outlines typical applications for each product grade.
The brochure takes a deep dive into ten different markets for zinc oxide, explaining how production processes and end products can be improved. An exhaustive list of industry certifications and compliance statements is also provided. Of benefit to consumers of zinc oxide is a page visually outlining twelve different packaging options.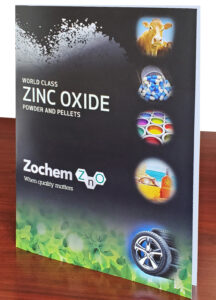 Zochem's Vice President of Sales and Marketing, Ed Smith said, "This brochure does more than tell the Zochem story, it is a primer on zinc oxide and its many uses. Many people don't realize the importance of zinc oxide and how it improves our daily lives."  Smith continued, "When manufactured to high standards, zinc oxide is vital to industries ranging from pharmaceuticals to rubber to agriculture and much more. Our new brochure tells that story."
If you would like to receive a printed copy of the brochure, please click here and request a copy in the form's message box.