The one element that is consistent with Zochem's team members at our facilities in the U.S. and Canada is that they expect to see each other every day in a safe environment.  Just as important, our team expects to win every day because the starting line-up is on the floor!
A ZERO-injury environment carried out by Zochem's dedicated team members has been reflected by going more than 9.0 years and 6.5 years without a lost-time injury at the Brampton, Canada and Dickson, U.S.A. locations respectively.  The latter being a greenfield site in 2014 which has zero recordable injuries in the history of its operation.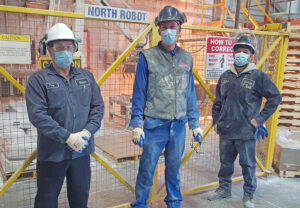 This performance fits the profile of the safe, quality product Zochem produces which is often utilized for improved health, safety, and nutrition for the end-user.
In addition to the formidable lagging indicators, the production, maintenance, and quality control workforce are critical to pointing out and reporting continuous improvement items to minimize and eliminate hazards through prudent near-miss reporting.
A "Genchi Genbutsu" (Go-and-See) approach is utilized thorough review of risk assessments for frequent tasks by the production and maintenance staff to ensure complacency does not set in.  That's why, as the adage goes, most car accidents occur within 10 miles of your home. It is what drives our criticality and adherence in maintaining focus on the industrial activities through the risk assessment program.
In 2020 through present, an additional layer of safety protocol for CV-19 protection has been met with idea generation, cooperation, and forward-thinking that had Zochem Management implementing a protection plan prior to Federal, State/Province, or local mandates.  Collaboration between the entire team created confidence within the work environment which led to a cohesive, sustainable approach; and the H&S results to keep the starting line up on the floor!
Plant Manager Jimmy Kight (Dickson, Tennessee) stated "we all understand the importance of what we do, but we enjoy doing it with our teammates day in, day out".  Mr. Kight added, "Working alongside people who are always watching out for your best interests is invaluable, and a trait the Zochem Dream Team never takes for granted."
Brampton's Plant Manager Shahram Mehdian went on to explain "Our Joint Health and Safety Committee (JHSC) with Unifor (general trade union in Canada) is not just administration or wallpaper.  We respect the process, the input, and the drive to minimize risks to as low as reasonably achievable.  This collaborative approach we find builds confidence among the team that their concerns will not go unheeded."
Industry leaders are noticing Zochem's commitment as well. For the second consecutive year, Zochem has been recognized by the Association for Rubber Products Manufacturers (ARPM) with its "Gold Safety Award" for plant safety. And Rubber News recognized Zochem with an award for Best Places to Work for 2020.