The Kringle's Kids Toy Drive was a great success. In conjunction with the Dickson City Police Dept, WDKN, and 101.5, we were able to raise north of $21,000 in toys and contributions for the Dickson County Help Center. It takes a team effort, and we got just that from all the partners involved.
Thank you to everyone who was involved and the extra time and efforts from our Zochem LLC Dream Team that will make this day a memorable one for many families in the greater Dickson area!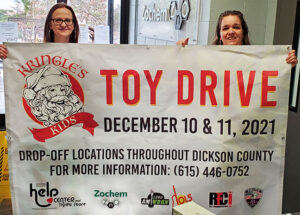 We call it the 1st Kringle's Kids event because there will be more to come! Wishing all the local children and families who benefit from the Dickson County Help Center a very Happy Holiday!