A fundamental principle of Zochem's ISO 14001 facilities in Brampton, Ontario, and Dickson, Tennessee is to maximize their knowledge through "kaizen" (continuous improvement) activities with a focus on how to minimize their overall carbon footprint.
As a strong supporter of environmental sustainability, Zochem's North American operations consist of large-scale muffle furnaces, which are used to maximize the recovery of ZnO from high-purity zinc metal.  The large-scale refractory vessels use strategically aligned natural gas burners to create a consistent temperature profile across a 30-40 ft arch.  The heat transfer across the large cross-sectional area results in the largest daily production capability known in the industry.
Zochem has invested over $4MM in new technology and equipment, completed in the last 12 months, which benefitted from the lessons learned from the previous furnace builds at both facilities. These upgrades have allowed us to continue to be the technological leader in green methods without compromising the output capacity of the vessel.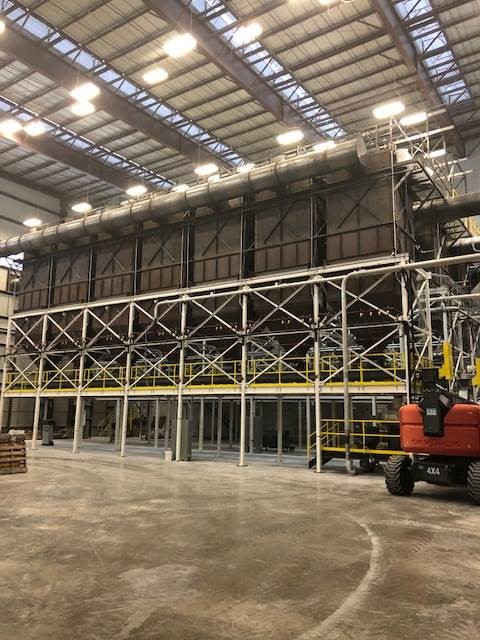 But does the muffle furnace output create a larger carbon footprint than other technologies being a higher output, larger vessel?
The answer is No. Firstly, this superior design uses natural gas which is the cleaner alternative to other carbon-rich fuels used around the globe.  Secondly, the lean design uses heat recuperation technology, where the exhaust gases from the furnace operation are utilized to preheat ambient air to prime the air being re-introduced to the Combustion Chamber through Low NOx Burners (see image) at up to 700 °F, resulting in less natural gas consumption to maintain the setpoint.
Dickson Plant Manager Jimmy Kight explained, "Zochem understands the upfront costs for a muffle furnace and related equipment far outweigh the capital for other technologies such as crucibles. But we feel it is our responsibility to invest in what we know is the best technology for our customers in terms of safe operation, high purity product, and environmental sustainability."  Kight added "Our safety record, consistent product quality, and a focus on customer satisfaction. That is what we will continue to build our demand on, which will allow us to fill the energy-efficient, high output furnaces we have constructed over the years."
Zochem's Dickson plant is a newer state-of-the-art facility constructed in 2014; the first new greenfield site for zinc oxide production in over 20 years.  Zochem's Brampton plant completed a $21MM construction project in 2013-2014, which included energy-efficient improvements of five existing furnaces.  The latter was rewarded with an Enbridge utility rebate cheque of over $80,000 for the output-based utility savings.
As a responsible partner within our communities, Zochem's goal is to support the long-term vision of a green, carbon-neutral society. The company looks forward to future technological advances to support our customer base, employees, and communities alike.